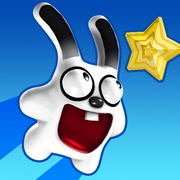 Bounce The Bunny

Rating

4 Stars

Price

Free

Ages

4+

Created

Sept. 1st, 2011

Last Update

Sept. 13th, 2011

Version

1.1
Description
Edit
Bounce the Bunny. Create magical bubbles to propel your rabbit along and help him reach his destination. Kick him off with a boot and watch him bound through the air. Just be careful not to let him fall in the water or he will be washed out! One kick of the bunny and you will be hooked! Enjoy responsibly!
Ad blocker interference detected!
Wikia is a free-to-use site that makes money from advertising. We have a modified experience for viewers using ad blockers

Wikia is not accessible if you've made further modifications. Remove the custom ad blocker rule(s) and the page will load as expected.