Description
Edit
Paper Toss Friends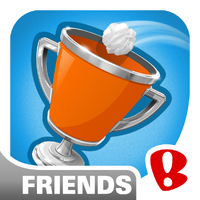 ---
"Let's play Paper Toss Friends! Now you can take turns playing Paper Toss with your Facebook, Twitter and Game Center friends, email contacts, and other real people. Introducing Paper Toss Friends - It's Your Turn!"
---
More info
Game
Paper Toss Friends
Created
October 3rd 2012
Reviews
5 Stars
Price
Free/ Ad-Free $.99
Rated
4+
Last Update
October 5th 2012
Version
1.0.2
Apple recently recognized the original Paper Toss app one of the Top 3 Most Popular Free iPhone Games ever. Paper Toss Friends is a social, multi-player version of the mega-hit game where you compete against other iPhone, iPad & iPod Touch players. You'll score points by flicking wads of paper into the office trash can. Take turns with your Facebook, Twitter & Game Center friends, email contacts, or random opponents from around the world. Out toss the other player over three rounds and you win. Then, let the trash talking begin!
Paper Toss Friends is entirely free!
✔ Flick paper balls in the trash bin to win ✔ Challenge Facebook & GameCenter friends ✔ Invite your email & Twitter contacts to play ✔ Toss watermelons, grenades & other stuff ✔ Select from several levels of difficulty
✔

Kill time and avoid real work
Ad blocker interference detected!
Wikia is a free-to-use site that makes money from advertising. We have a modified experience for viewers using ad blockers

Wikia is not accessible if you've made further modifications. Remove the custom ad blocker rule(s) and the page will load as expected.